1.- RAKSHA BANDHAN - Northern & Western India (Estamos en Udaipur) 12 de Agosto de 2003
Celebrated by Hindu's particularly in northern India. Sisters tie holy thread/Rakhi on the wrists of their brothers wishing their long life. Brothers take oath to protect the honour and help them in adversities.
2.- INDEPENDENCE DAY - All over India (Estamos en Jodhpur) 15 de Agosto de 2003
Independence Day
<![if !vml]>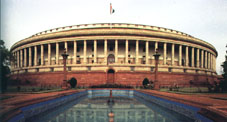 <![endif]>The anniversary of India's independence. The 15th of August is a reminder of the end of the British Raj in India. The tricolour flag is a common sight on this day, little flags are displayed by people, everywhere. They celebrate the colours of the flag on their clothes, their homes and even in their vehicles. The Prime Minister addresses the nation and a homage is paid to all the national leaders of the country, who fought for the freedom struggle. The day is celebrated all over the country with meetings and flag-hosting ceremonies.
This Festival is celebrated on Thursday, August 15, 2002
<![if !supportEmptyParas]> <![endif]>
<![if !supportEmptyParas]> <![endif]>
3.- JANMASHTAMI - All over India (Estamos en Mandawa) 19-20 de Agosto de 2003
The birth anniversary of Lord Krishna, celebrated with great enthusiasm all over India, specially at Mathura and Vrindavan, which are closely associated with his childhood. También en Nathwara, cerca de Udaipur. Pero estamos lejos.
Janmashtami
<![if !vml]>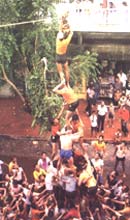 <![endif]>Janmashtami or Gokhulashtami is the birthday of Krishna. Krishna was the divine son of Devaki and Vasuda and was the eighth incarnation of Lord Vishnu. On Janmashtami, devotees fast until midnight and worship tiny cradles or rock idols of baby Krishna. The next day, hundies or earthen pots filled with yogurt and butter are tied up in every community square or street and young men form human pyramids to break them and receive gifts(cash) tied around the pots.
This Festival is celebrated on Tuesday, August 19, 2003
<![if !supportEmptyParas]> <![endif]>
4.- PATETI - All over India (Estamos en Mandawa) 21 de Agosto de 2003
Pateti
<![if !vml]>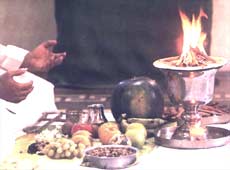 <![endif]>It is the New Year's Day for the Parsi community. They celebrate the day with feasting. It goes back to the time of ancient Persia and describes how the kings of Persia celebrated their own glory and nature's glory and springtime on this day. Parsi's decorate their homes with flowers and rangoli patterns. They don their traditional kustis and caps made of gold and silver brocade and visit the fire temple (agiary), to perform a thanksgiving or Jashan. Then they visit friends and family and share special sweets.
This Festival is celebrated on Thursday, August 21, 2003
<![if !supportEmptyParas]> <![endif]>
1.- Raksha Bandhan
Two important festivals are celebrated during the bright fortnight in the month of Shravan. One is known as Upakarma ( see page 'Sacred Thread' and also page 'Sacraments' Upanayan Samskar) and the other as Raksha Bandhan.


Raksha Bandhan :
The legend
El Segundo festival del Shrava purnima (Purnima=Luna llena) es el Raksha Bandhan. Es una antigua tradición. El Bhavishya Purana refiere una batalla entre dioses y demonios e Indra (el rey de los dioses) se sintió deprimido. Entonces la esposa de Indra, Sachi tomó un lazo de hilo, lo cargó con versos sagrados o Mantras de protección y lo amarró sobre la muñeca de Indra. Con toda la fuerza que le confirió este lazo Indra derrotó a sus enemigos. Desde entonces hasta hoy se celebra este festival.
Through the passage of time festivals are undergoing modifications. Raksha Bandhan is also known as Rakhi. Rakhi has become a sacred festival for sisters and brothers. Sisters tie them to brothers. Priests tie them to people of his congregation. During the middle ages, if a woman tied a Rakhi on the hand of any man, then it became imperative for him, as his religious duty of the highest order, to protect that woman. That man would put his life at stake to protect the honour of that woman.
In those days, many Rajputs sacrificed their lives to protect their spiritual sisters. Humayun received a Rakhi from the queen Karmavati of Chittor and for that, Humayun carried out his sacred brotherly duty and protected her by opposing his own soldiers.
According to ancient traditions, it is customary to have protection threads that are charged with sacred verses (Mantras) and sanctified with rice, durva grass etc.; to have these tied by people who know the Vedas or by near and dear ones. This protection thread saves from sins on the one hand and removes diseases on the other hand. By tying this thread, protection is afforded for a full one year and all kinds of fears are removed.
Nowadays Rakhis are decorated with soft silky threads of various colours, and also with ornaments, pictures, gold and silver threads etc. These Rakhis enhance the artistry of the people. Within these Rakhis reside sacred feelings and well wishes. It is also a great sacred verse of unity. Acting as a symbol of life's advancement and a leading messenger of togetherness.
Each person should celebrate with enthusiasm this sacred festival of Rakhi or Raksha Bandhan. (Raksha = protection. Bandhan = tie).
<![if !supportEmptyParas]> <![endif]>
<![if !supportEmptyParas]> <![endif]>
<![if !supportEmptyParas]> <![endif]>